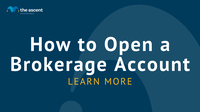 How to Open a Brokerage Account: A Step-by-Step Guide
Choosing the right brokerage account can seem like a difficult process, but it doesn't have to be. By deciding what type of account you want and then comparing several online stockbrokers, you should be able to choose the one that best suits your needs.
Here is your step-by-step guide to opening a brokerage account:
Determine the type of brokerage account you need
Compare costs and incentives
Consider the services and amenities offered
Choose a brokerage firm
Complete the new account request
Fund the account
Start looking for investments
1. Determine the type of brokerage account you need
What are your investment objectives? If you just want to invest for a rainy day or for some relatively short-term goal, and don't necessarily want your money tied up until you retire, a traditional brokerage account is the way to go. These accounts don't offer tax advantages – you may have to pay tax on investment profits and dividends – but you're free to withdraw your money whenever you want. For this reason, a traditional or standard brokerage account is often referred to as a taxable brokerage account.
If you choose a traditional brokerage account, your broker will likely ask you if you want a cash account or a margin account. If you choose to apply for margin privileges, it basically means you can borrow money to buy stocks, with the stocks in your portfolio serving as collateral. You will pay interest on borrowed money, and you should be aware of some of the risks inherent in margin investing.
On the other hand, if your goal is to save money for retirement, an IRA is the best bet. Traditional IRAs can get you tax deductions when you contribute to them, but you won't be able to use your money until you're 59½. Contributions to Roth IRAs do not give you a tax benefit when you make them, but qualified withdrawals from the Roth IRA will be tax exempt. Plus, you can withdraw Roth IRA contributions (but not your investment profits) whenever you want. Finally, if you are self-employed, there are special options for you, such as a SIMPLE IRA, SEP-IRA or an individual 401(k). You can also read a more comprehensive guide to help you choose the best IRA.
It should also be noted that many people choose to open multiple brokerage accounts, such as a taxable account and an IRA, to keep their money in separate baskets.
Be sure to check out our list of the best Roth IRA accounts to find the right option for you.
2. Compare costs and incentives
Virtually all major discount brokers these days offer commission-free trading. They may also offer you a discount to reward you for certain actions, such as transferring a large investment account from another broker.
That said, it's important to review the full fee schedule of each online brokerage firm, especially if you plan to trade anything other than stocks (options, mutual funds, ETFs, bonds, etc.), as those these often have their own costs. For example, many brokers charge a commission of between $0.50 and $0.75 per options contract, so even if the broker does not charge a base commission, options trading will not be exactly free.
Finally, many brokers offer incentives to attract business, and you don't have to be a millionaire to take advantage of them. I'm not saying that a good incentive alone should sway your decision, but it's definitely a piece of the puzzle worth considering.