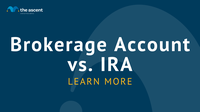 Brokerage account vs IRA: what is the right decision?
You're ready to open an investment account and start building your nest egg. When it comes to a traditional IRA account versus a brokerage account, you'll find advantages and disadvantages to both. We've created this primer to help you decide which might be right for you.
Types of Basic Investment Accounts
Let's compare a traditional IRA to a brokerage account. To get started investing, there are two main types of accounts you can choose from: an Individual Retirement Account (IRA) or a standard taxable brokerage account. Here is an overview of what you should consider before making a decision.
Before I begin, note that I often use a few terms to describe the same thing. "Brokerage account", "taxable brokerage account" and "standard brokerage account" are different names for a non-retirement investment account. Technically speaking, all investment accounts can be described as brokerage accounts. Both taxable accounts and IRAs are offered by brokerages.
Reasons to Open a Standard Brokerage Account
A standard brokerage account has several advantages. Generally, this is the less restrictive of the two options. Here's why:
There is no contribution limit for a standard brokerage account.
You can withdraw your money at any time and for any reason.
You can trade with margin (borrowed money). It's not always a good idea, but there are times when margin privileges can be a nice bonus.
Some investment vehicles are available in a brokerage account that are not in an IRA. For example, you generally cannot buy options in an IRA.
Disadvantages of a Standard Brokerage Account
In the toss between a traditional IRA and a brokerage account, the biggest downside is that a brokerage account is not tax-advantaged. Since this is a taxable account, you will have to pay taxes on the income from your account, including capital gains and dividends.
Capital gains taxes come into play when you sell investments for a profit. For example, if you pay a total of $5,000 to buy a stock and sell your shares for $7,000, you have $2,000 in capital gains.
The IRS considers two types of capital gains – long-term and short-term. Long-term capital gains are profits on investments you've held for more than a year. They are taxed at advantageous rates of 0%, 15% or 20%, depending on your taxable income. On the other hand, short-term capital gains are profits on investments that you have held for a year or less and are taxed as ordinary income.
Capital losses can be used to offset capital gains and even reduce your other taxable income by up to $3,000 per year (with any excess carried forward). As a simplified example, if you sold a long-term holding with a profit of $2,000, another with a profit of $1,500, and another with a loss of $1,000, your long-term capital gain for the year would be $2,500 in the eyes of the IRS.
Most dividends you receive are considered "eligible dividends" and receive the same favorable tax treatment as long-term capital gains. Some do not meet the IRS definition of qualified dividends – such as dividends from certain foreign corporations – and are treated as ordinary income for tax purposes.